Sprinkler systems are a major contribution to fire safety in offices, retail stores, warehouses, workshops, apartments and other commercial environments. The following information summarizes some important fire sprinkler requirements for commercial buildings and can help you understand the need for a reliable sprinkler system.

The Need for Sprinkler Systems
Fire sprinkler systems provide a critical element of safety for occupants of buildings. Sprinklers are designed to detect heat from a fire and automatically activate, providing a flow of water that is intended to slow or extinguish a fire. By the time a sprinkler system detects enough heat to activate, a fire may already be well underway. The sprinkler can provide enough early suppression to allow building occupants to safely evacuate the building before the fire spreads or gets worse. In addition, a sprinkler system can reduce the severity of a fire enough to allow firefighters easier and safer access to the affected area.

Fire Sprinkler Requirements for Commercial Buildings
One of the most widely used sets of standards covering fire sprinkler requirements for commercial buildings is NFPA 13, Standard for the Installation of Sprinkler Systems. This national standard establishes the procedures and conditions for installing sprinkler systems and gives builders, owners and managers a consistent set of standards for meeting or exceeding fire safety requirements.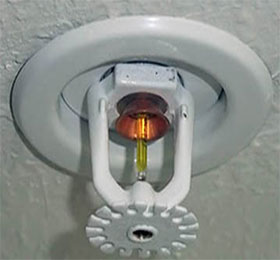 Best Work Strategy
Super finely finished array of Fire Sprinkler Heads for Offices. These provided products are developed by our skilled team members making use of superior grade raw substances as per technological developments of the market.
Features
Resistant to degradation
Sturdy structure
Durability