The most common type of fire sprinkler head is the pendent. A pendent fire sprinkler protrudes and hangs down from the ceiling, like a pendant necklace but spelled differently. Pendent fire sprinklers commonly require an escutcheon to cover the cutout in the drywall or drop ceiling surrounding it. Once water is expelled onto a pendent fire sprinkler's deflector, it sprays in a circular pattern providing the most coverage of any fire sprinkler. The deflector is curved downward, which helps to direct the water out into a cone pattern. Commercial pendent fire sprinklers are bet used in offices, hotels, factories, etc.

There is no "best" fire sprinkler, there is only the right fire sprinkler for your specific application. That is why, when considering adding fire sprinklers to a new building, it is critical that you hire a licensed fire sprinkler designer to make sure the sprinkler type, location, and temperature meet the room size requirements necessary to effectively protect the room.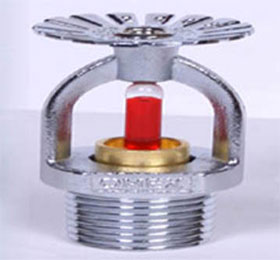 Best Work Strategy
If you're considering replacing fire sprinklers, note that the system must be drained in advance.